This section of the site gives you a chance to show, explain and describe your visions for the future of the World Trade Center site. Please be specific, creative and unique. To submit a design of yours click here.
To View Larger Images of Each Vision click the thumbnails.
This vision was submitted by Andrea Bonardi:
Hi I'm Andrea Bonardi , I'm 28 years old designer.
The new towers will be two visible different rotund towers but they'll be stuck together, one is little smaller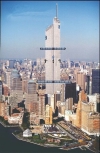 than the other. This building have 4 big round panorama windows, 2 up the tower and 2 in the middle. The great innovation that will do unique the tower are two steel/glass belt tunnel around the tower (up and in the middle) In this round tunnel the people can walk and enjoy an incredible and amazing view of New York. I have to decide yet the final base of the towers( as you can see there are some different pics with different base of the to

wers. This round tunnel must be fixed strong to the towers. For the esthetics of the towers I've thought to put eight bronze statue (4 for the up tunnel and 4 for the middle tunnel). Four bronze statue will show the American eagle and the other 4 will show the firefighters, these statue will have a rope on them hands and them eagle's paw. This rope is fixed to the tunnels so it will seem that they (eagles & firefighters) support the tunnels in the sky. After I think to build next the towers a fountain using the old front steel of the old twin towers, and around the towers a lot of green with plants and place where people can walk safe and do the normal daily thing like they did before the tragedy.
This vision was submitted by Doug Friddle: